Just in time for a fall season, ZoomCharts is releasing the 1.6. version of the Drill Down Visuals. Along with multiple smaller yet nifty improvements, this release introduces powerful new features for graph visual, extended measure support, and a completely new trial experience. Take a look!
1. The new Drill Down Graph PRO – better navigation, rich information display options and enhanced relationship visualization
1.1. New pre-set layouts for visualizing dependency relations
The latest version of Drill Down Graph Pro comes with two new layout options – radial and hierarchical (also known as organization tree). Both enables users to clearly visualize and detect chain of dependencies.
While the default layout is better fit to emphasize links among the nodes thus helping to detect connections and outliers, radial and hierarchical views use node positioning to communicate relationships. That is why
they are perfect for use cases such as workflow visualization, process management, network and system management, value chain analysis and decision diagrams.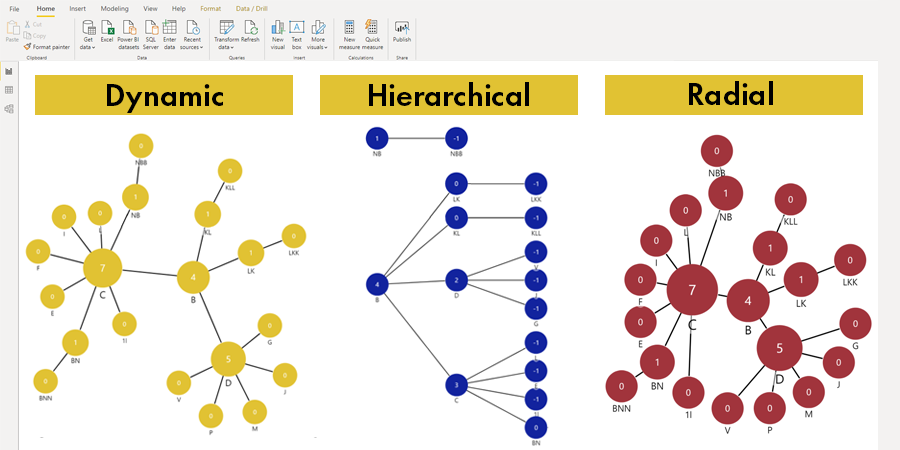 1.2. Enhanced navigation with custom expansion levels, direction and radius
This new bundle of features enables report creators to fully control the graph exploration experience:
Set focus nodes

Set initial level of expansion (how many levels to show right away)
Set how many levels to open on click (expansion radius)
Set direction for expansion (source to target, target to source or both directions)
1.3. Auras for better relationship detection
Auras are also a completely new feature that allows to visualize relations among the nodes by grouping them in color categories. Auras can be set for source and target nodes, split into categories and customized to match the overall theme of the report.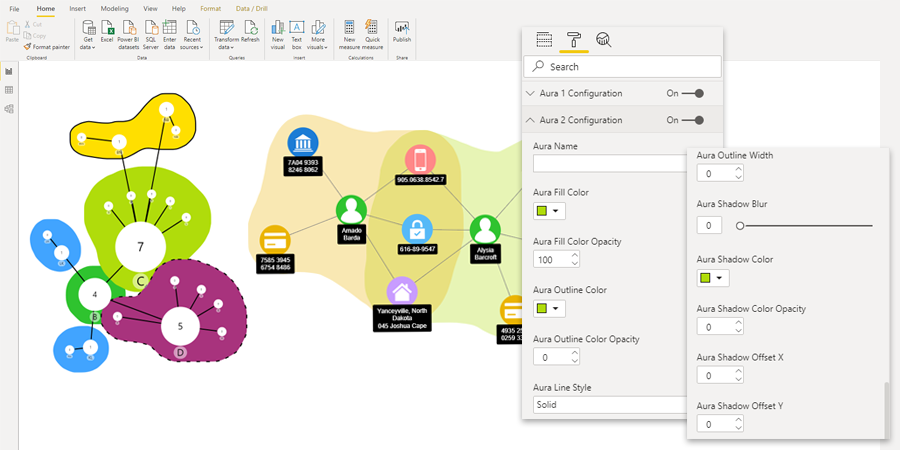 1.4 Additional new customization options
Graph now have additional data fields and customization options that will offer greater control over the look of the chart and provide opportunities to add additional information.
Source and target nodes are now in separate fields enabling separate formatting options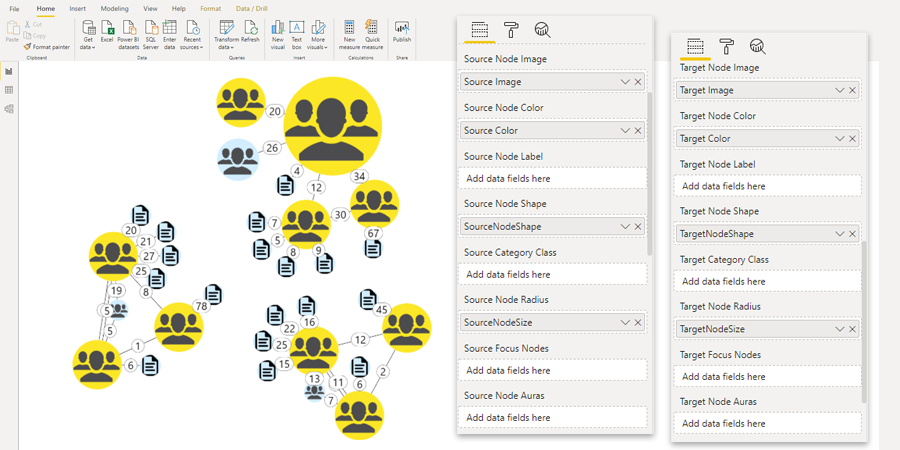 It is possible to group links into categories and display in the legend. Feature will be useful for use cases such as distinguishing between incoming and outgoing transactions, different types of workplace relations and similar.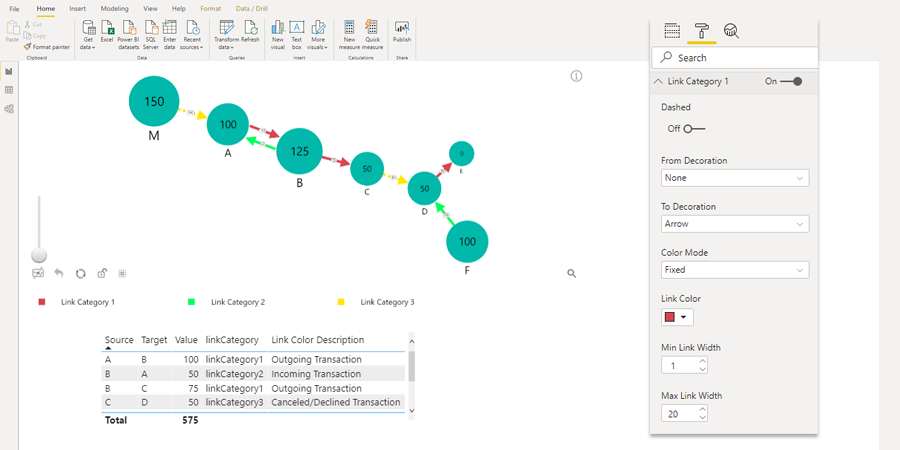 Links now support not only numerical labels, but also textual labels, which allows to provide more context as to what the connection represents. Furthermore, we have added "Link tooltip content" field, which allows to add specific information related to the link. It can be activated by right clicking on the link.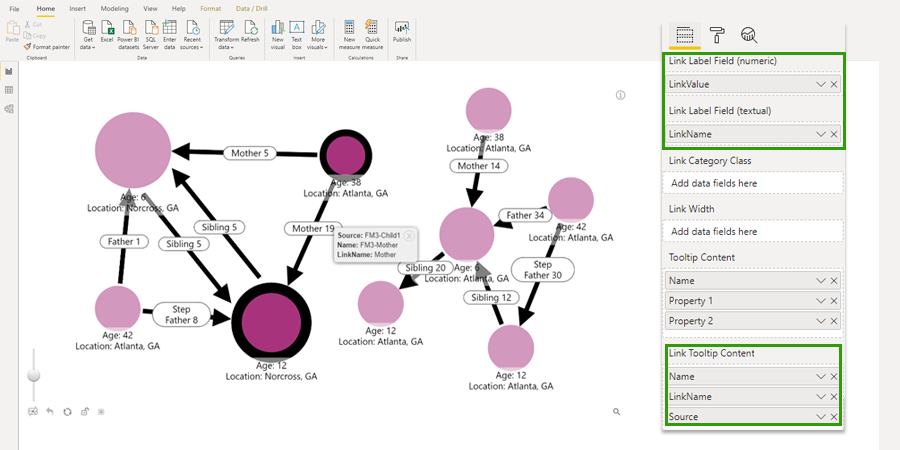 Outline formatting, another great feature, allows to customize outline for all nodes or node categories. For example, it's possible to set different outlines to visualize task's progress – started, in progress or closed.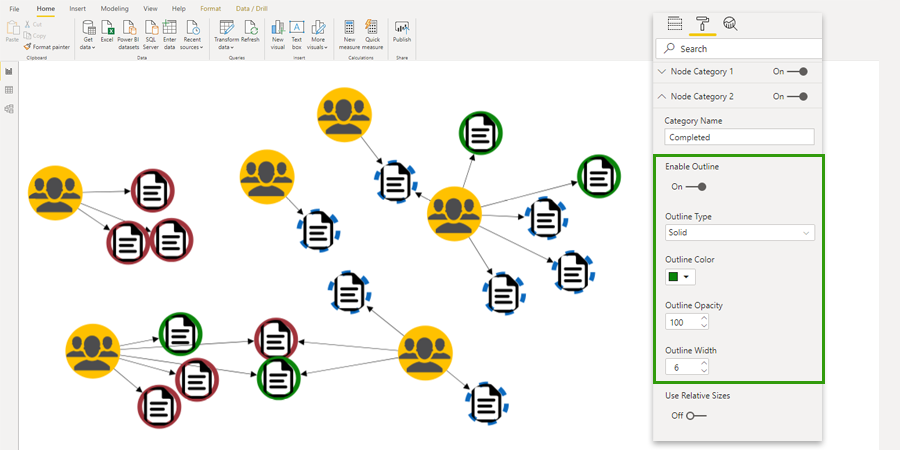 Node radius. Users can choose to rely on automatic node sizing based on values or set custom node radius. Notice how size of the node 196 in the picture below changes based on the selected option.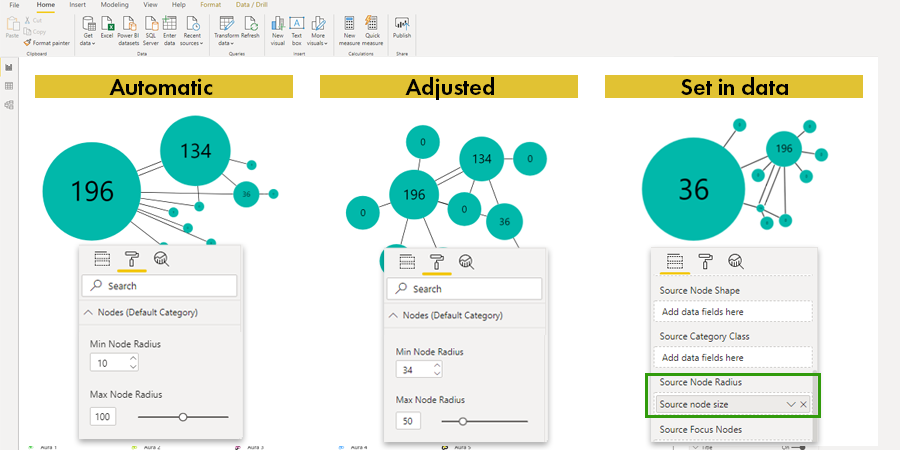 Hyperlink support in tooltip opens endless opportunities to add extra information to your charts. The link can be provided in 2 ways: 1) as a regular link from the address bar or 2) as an html reference, which gives you an opportunity to show a defined "display name" instead of the actual link.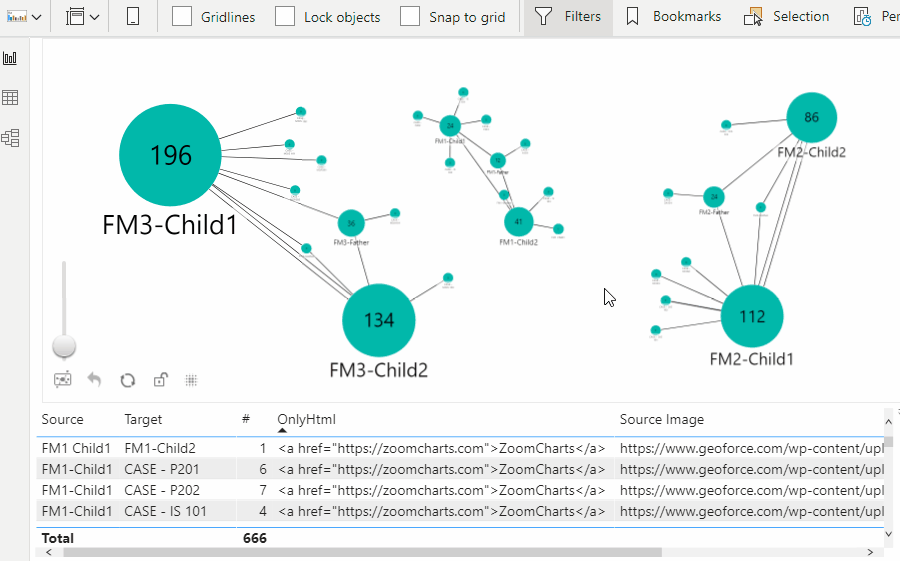 The new toolbar offers more options to control the graph exploration experience. It's also possible to customize the toolbar by switching on/off any of the 13 items:
You can find detailed information on each toolbar item in the
documentation
.
Please note:
With 1.6. we are discontinuing the previous (1.5.) version of the graph and network visuals. We will keep supporting previous version and the visuals will keep working in your reports. However, If you choose to upgrade them, you will have to make some manual adjustments to make sure data model works well with the 1.6. version. When it comes to the graph visual, you will need to pay closer attention to two aspects:
Field order. With the introduction of 1.6. graph we have added more data driven fields and increased the total number of fields to 26!

Which might cause some of the fields to be mapped incorrectly when updating the visual.

Image usage.

Previously the visual was able to load image directly from a link. Now with improved security requirements, this model has been changed and images can only be provided in base64 format.
2. Measure support
With 1.6. release ZoomCharts has taken 1 step closer to having measure support for all Drill Down Visuals. Visuals that now have full measure support are
Donut
,
Pie
,
Combo
,
Combo Bar
. Another good news – full drillthrough and Report Page Tooltip support (from any drilldown level) is also enabled for these visuals.
3. New trial experience
We have made the trial of the Drill Down Visuals simpler and license key free. Now it is as simple as adding them from AppSource or our website with an instant access to all features (free and paid) for 30 days. No more signing up, no more trouble with license key.
4. Features to improve user experience
1.6. release introduces 2 features thar will help build better, more end-user friendly reports.

1. All visuals now have a reset button, allowing the report end-user to quickly return to the initial state and cancel all previously applied filters or drilldowns.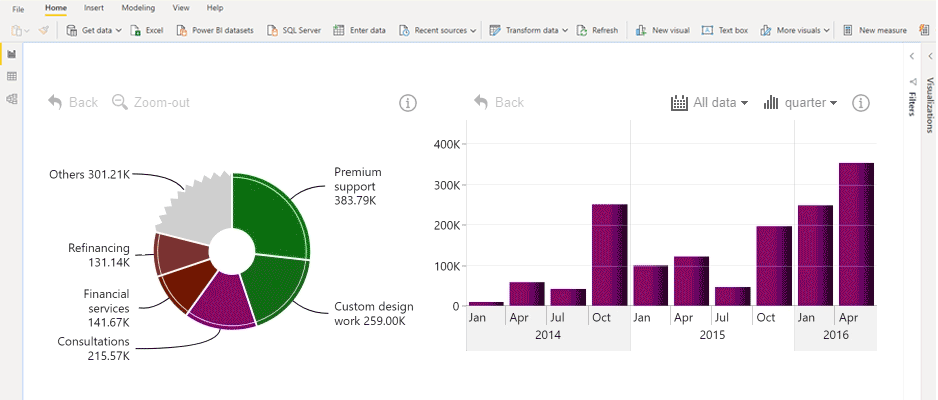 2. Drill Down Combo PRO visual now allow you to choose how to handle visualization of empty data points. Depending on your needs, you have 3 options: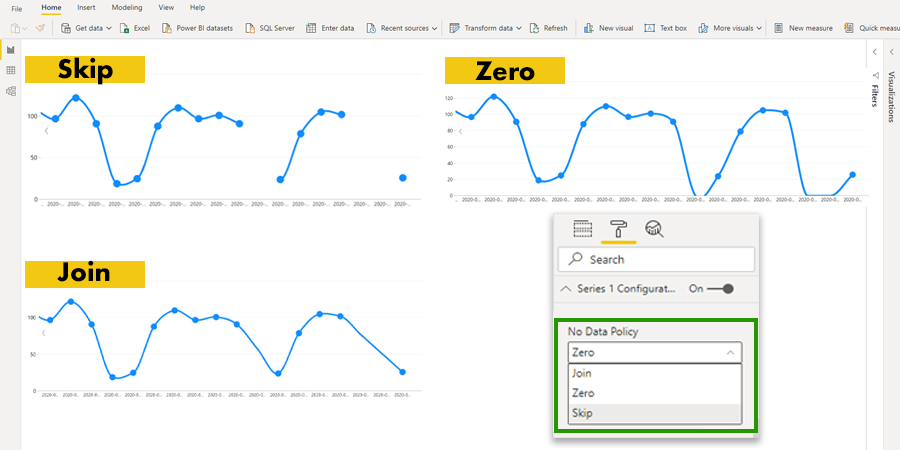 5. Automatic gradient for Donut and Pie PRO
Automatic gradient is a feature that has been requested a lot and we are happy to announce that it is now available. Use it to create stunning donut, pie and gauge charts with just one color.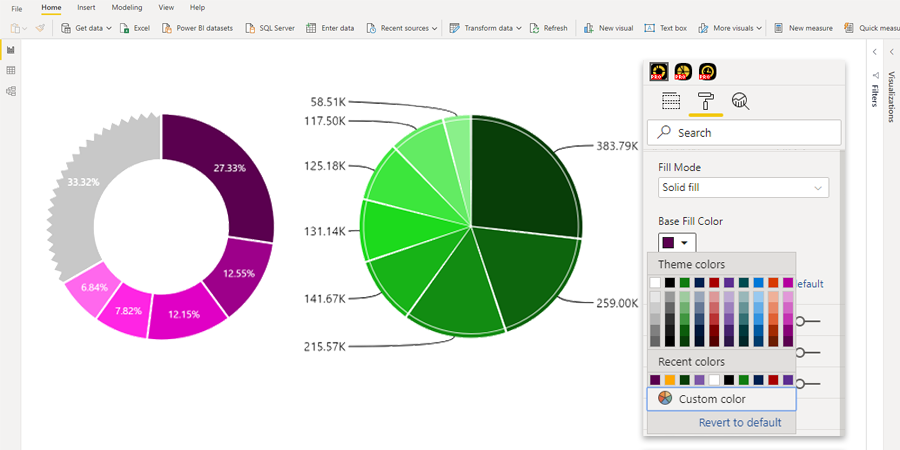 Drill Down Visuals 1.6. release is already available in AppSource and Power BI Marketplace.
If you have added your visuals via Marketplace, you will receive the 1.6. update automatically. Exceptions are Drill Down Graph PRO and Drill Down Network PRO, which you will have readd to you reports from AppSource.
If you have added visuals to your reports from AppSource or ZoomCharts website (by downloading and importing visuals in Power BI), you will have to update them manually, by downloading latest versions and replacing the visuals.
If you are new to Drill Down Visuals, try out the new trial experience!
Head to the AppSource and start using them right away!