There is an ocean of resources out there explaining best practices of data visualization and storytelling. It seems that secrets of data communication have long been unlocked, and passing insights to the decision makers should be a piece of cake for every data analyst out there. Yet businesses repeatedly report that getting meaningful benefits from data initiatives is a challenge. Surprisingly, lack of effective data communication is the one to be blamed. Business people just seem to be speaking in a different language.
Over the years ZoomCharts has accumulated a lot of client feedback about their approaches to building Power BI reports that are well received by employees, leading to stronger data cultures. There are 5 very simple, yet powerful techniques we keep seeing, that have managed to make a difference for our clients and hopefully, will help you in communicating data to your decision makers as well.
1. A chart and a table just might do it
While BI tools as we know them today have been around for over a decade or two, Microsoft Excel is still a go-to tool for many. We are creatures of habit. Business people are not an exception to this rule. When new BI tools such as Power BI are introduced in the organization, there is always a skepticism to deal with, learning curve and switching costs, which is not necessarily measured in dollars.
"It's not a technology that is the biggest challenge for building a successful data culture. Rather, 93% of respondents identify people and process issues as the obstacle. "
That's why it makes a lot of sense to ease into more sophisticated reporting and data visualization by starting simple. It might be exactly what decision makers need. Start with a table, combine it with a chart or two, and let the users drill into data themselves. It will give them familiarity of Excel environment, flexibility that doesn't always come with the fixed, ready-to-use reports, and time to get familiar with Power BI. In time, you will be able to introduce more advanced visualizations and analysis.
A client of ours, an insurance company, uses this strategy to share sales and marketing data with the business units. Data is collected and passed to users in Power BI reports that consists of data table and a couple of charts that act as slicers ( visuals included in the report for the purpose of filtering data. e.g. time slicer) . It enables users to quickly filter data table and extract necessary information.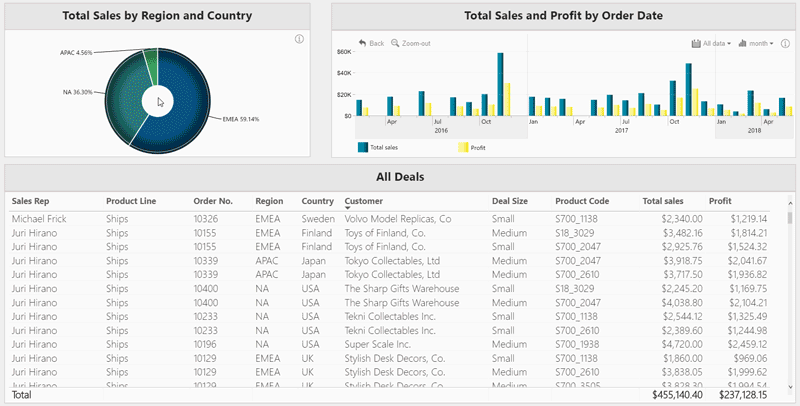 2.Don't underestimate the power of the pie (or donut) visual
There has been a lot of noise over the death of the pie chart, with a lot of high-level professionals advising to stay away from it. Yes, there are other alternatives (bar chart for example). Yes, you can live without it and even get praised by your colleagues for being a true data visualization warrior. However, as always, it is not the tool to blame, but one's ability to apply it correctly.
Moreover, over 80% of the client reports we are seeing have a pie or a donut chart. And there is a reason for that – it's still a very efficient way for the decision makers to quickly grasp the state of the things.
We admit, pie charts are usually not meant for a precise analysis. But they are also very effective, when used correctly. And - if you are using a pie or a donut made by ZoomCharts, it does solve many of the issues usually listed as disadvantages for the pie charts such as too many slices or unordered sequence of slices.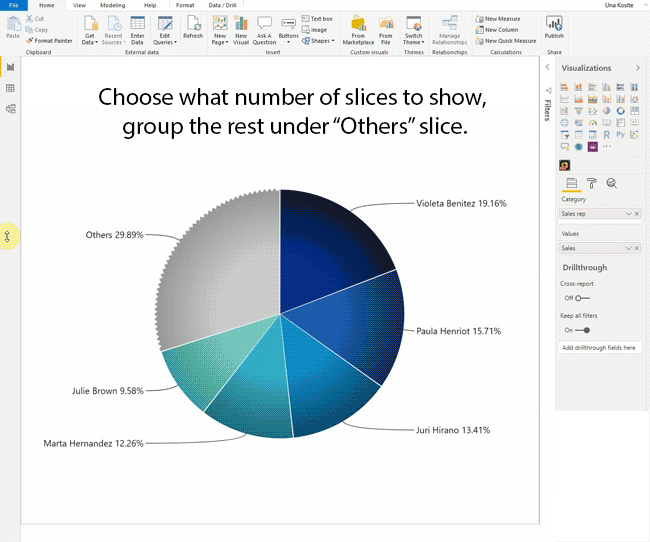 Use them wisely, and, who knows, your next Power BI report might be the one to bend some ears and turn some heads. Like it has been in a recent case for one of our clients, using Drill Down Donut (which, by the way can be turned into pie and gauge as well).
I like that there is a Others segment that can be further drilled into and out of. It is very intuitive. I also like that when a segment is selected, it slides o

ut of the donut to indicate it's selected. I like the subtle highlighting of the segment when it is moused over. The look and feel is great! My users are like WOW!! Thank u.
3. Stick to one page (or use navigation that users are familiar with)
Time is money. Ability to quickly grasp the state of the things matters to business. Every click within a report means more complexity, more time wasted. That is why we hear it over and over again – reports that consists of just one page is the desired state. When that's not possible to achieve, a simple, familiar navigation bar will make all the difference.
Power BI reports have a built-in navigation at the bottom of the page, yet it's not what users are used to. They prefer traditional navigation as seen on most websites- with tabs on top or the left side of the screen providing quick access to the necessary information.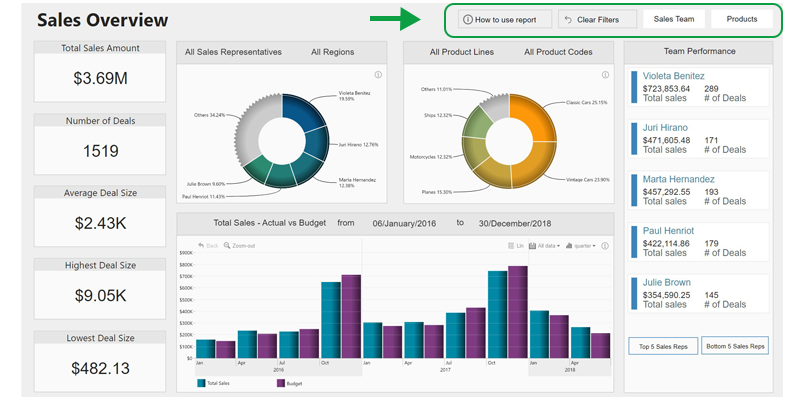 4. Think about data exploration experience
Mining data insights can be intimidating and complex task. Especially if that is not your everyday job. Therefore, it's not surprising that building data culture, moreover, if it comes together with new tools, is a true challenge. Power BI is the true leader in data democratization, striving to make data accessible to everyone – be it data specialists, decision maker or a junior colleague.
Yet, there I still a room for improvement and a learning curve – even if it's just for report consumption. When it comes to data visualization within Power BI, it is important to users to grasp a full picture quickly. It is also important to explore data, drill up and down the data levels easily, when questions start to arise. That's where ZoomCharts come in.
Our visuals are designed to take the Power BI experience to the next level with intuitive on-chart interactions and smooth animations, that considerably shortens the learning curve. Users can filter, drill down and select data by clicking directly on the charts. Because of the next level interactivity, ZoomCharts Drill Down Visuals save screen space and there is no need to build multiple versions of the same report.
They have proven themselves in capturing decision maker's attention, fostering Better Power BI acceptance, and improving data communication.
Our client – a retail company from New Zealand has expressed it perfectly.
"ZoomCharts provide genuine ease of use and drill-trough. UI without these visuals is a bit difficult to an end user. (..)With the time and intelligence that we have, information that various branch managers want to see, we can deliver it all in one report rather than having multiple versions of the same thing. I could see from the start that the combo and donut [visuals] had a potential to simplify our reporting structure here. (..) ZoomCharts have been critical in the uptake of Power BI reports. I would have to spend much more time and money to redesign our reports in a different way had we not used your visuals."
5. Listen to the business needs, keep an eye out and be the driver of the data democratization
Communication is the key - ask your business people what they need. The more you speak with each other, the better the results will be. Don't just wait for instructions. Take the initiative and ask – what is the desired result, how the report is going to be used, what insights they hope to extract. Show them the capabilities of Power BI reporting to broaden their understanding of the endless possibilities that Power BI brings to businesses. Make sure to show ZoomCharts Drill Down visuals to increase the chance of businesspeople falling in love with your reports from the first sight.
Combine what you will learn from them with your knowledge in data visualization, and you will be able to demonstrate value of data and communicate date more effectively in no time.
Have a story to tell about your own experience in communicating data to decision makers?
Share it in the comments below.