As data collection and its use keeps continuously growing in its virtual size, charting libraries and visuals such as Power BI drill down are at a growing risk of becoming overloaded, thus sacrificing report-making efficiency and speed. One of the ways ZoomCharts Drill Down Visuals for Power BI combats this is by making the user's report-making experience as intuitive as possible. This also means that our products are constantly evolving to accommodate the ever-growing number of diverse report-making and consuming experiences.
So let us introduce the long-awaited 1.7. update launch to ZoomCharts Drill Down Visuals for Power BI! Improvements are both large and small, but incredibly useful in either case – get more out of your Power BI drill down! This time we have added a new method of accessing data for chosen visuals, a new trial experience, as well as revamped our map visual.
1. Landing page addition
The core change that comes with the 1.7. version is that all our visuals – Donut, Network, Pie, Graph, Map, TimeSeries, Combo, Waterfall - now include a landing page feature.
This means that when selecting a visual before adding data, a landing page shall open. This landing page offers various quick and easy-to-use resources such as built-in access links that will aid the user in filling out the data visual of their choosing.
This feature will help streamline the user's report-making experience. Report-making (as well as consuming!) should be a fluid experience rather than a strict, boxed-in one that fails to adapt to new situations. This will also allow for more versatility and ease in how the company chooses to store and share their collected datasets.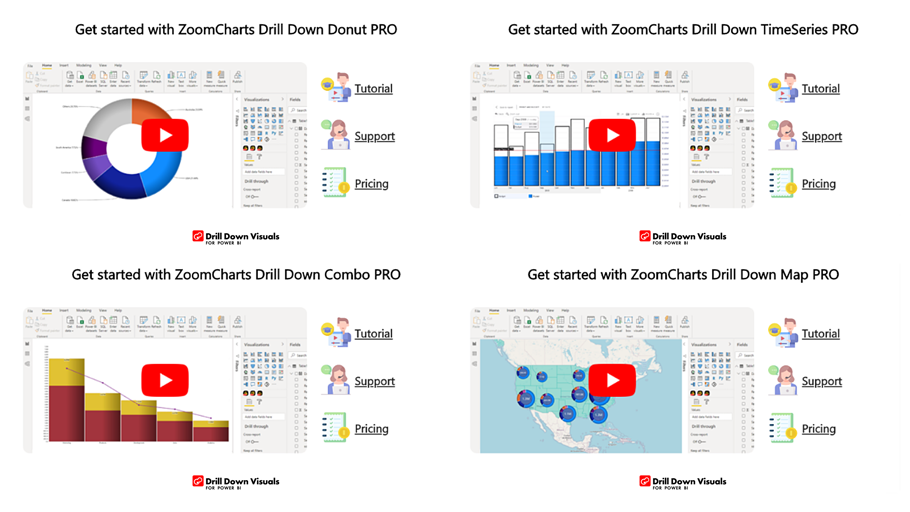 2. New extended trial experience
While our regular free trial offered 30 days of unlimited access to all features for all ZoomCharts Drill Down Visuals, we realized that may not be enough time for testing out all our continuously evolving data visualizations and Power BI drill down features. So now new users have the option to extend their free-of-charge ZoomCharts trial by an additional 30 days with a simple added pop-up on the Power BI app. More time to decide on a fully informed purchase of a great product!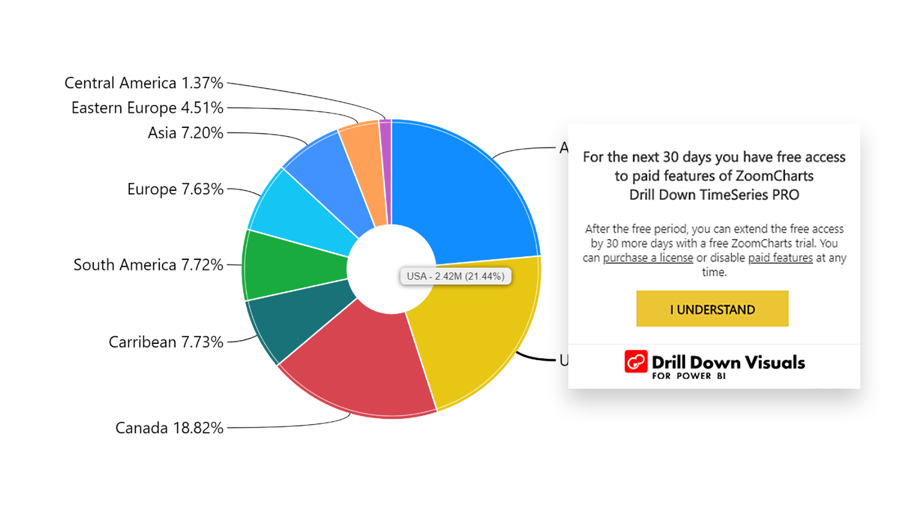 3. New features and improvements for Drill Down Map PRO
Drill Down Map PRO is one of the latest additions to our Power BI drill down data visual arsenal. We also recognize it as one of the most useful visuals for discovering key trends and information in business data. Hence, we have taken extra care in improving our map visual for both report-makers and consumers for a better location-based Power BI drill down experience.
New features for Drill Down Map PRO include:
New formatting options for the zoom tool. That means that shape layers can now be configured to appear or disappear at certain zoom levels. This will aid the user in filtering out information at certain zoom levels depending on how important that information is, as well as clean up the report's overall look.
New shape layer presets for extra built-in customization.
Shapes are now subject to conditional formatting, thus making it easier to pick out key information out of large datasets.
Auto focus and semi-auto focus modes are now available for more concentrated report analysis.
Continuous auto-focus on available data within a visual to avoid disrupting the user's reading flow.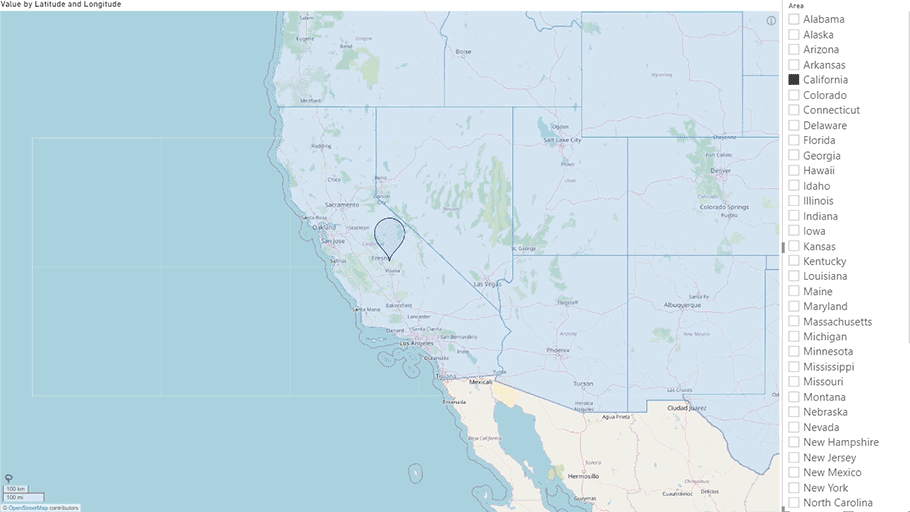 As well as additional useful improvements:
Map scale can now be displayed in the toolbar with the leaflet scale control.
More customization as clustered nodes can now be styled with all donut color settings carried over from Donut Visual PRO.
Added support for native tooltips to use with nodes and pie slices.
Tooltips now allow for clickable links.
Lasso tooltips now allow for HEX color code input for extra customization.
The image layer can now be used as the base layer.
4. Improvements to user experience and customization
We have also made further improvements to other key visuals – Drill Down TimeSeries, Drill Down Combo, Drill Down Combo Bar.
These include:
An added ability to configure the default on/off state of the visual's legend series.
A new type of line style for stepped outlines, in addition to the regular outline smoothing type.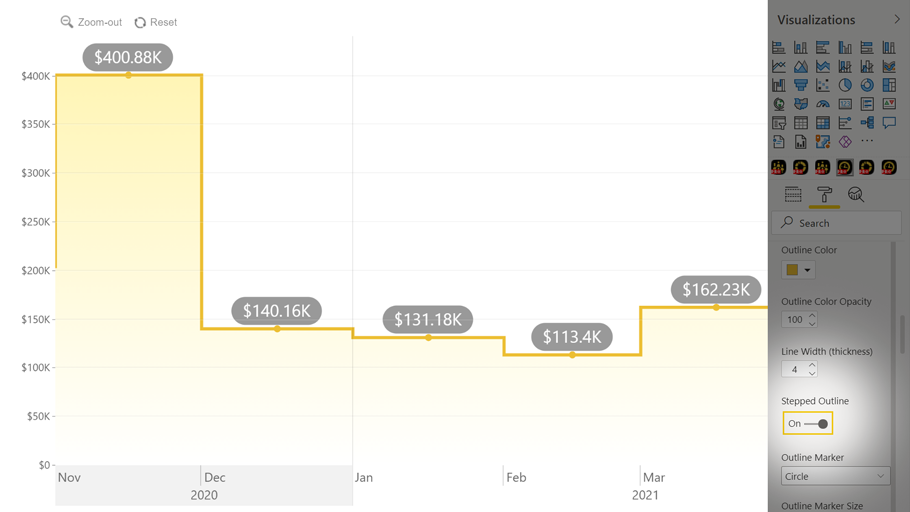 5. Advanced TimeSeries current time visibility
Finally, we have added a toggleable on/off option when displaying time in our TimeSeries visual. Wish to know how the data relates to right now? Simply display it on the x-axis with a click.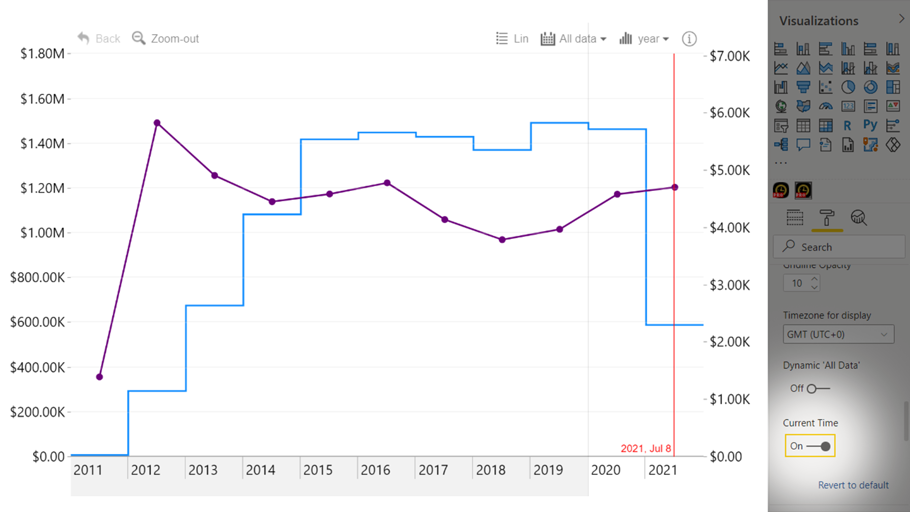 One of the driving forces behind our striving ambition for the most enjoyable report-making and reading experience is the feedback of our customers. So why not try out the latest features of our stunning data visuals and improved Power BI drill down experience. Efficient report making tools and flawless visuals are our specialty. After all, with a 60-day free trial, there really is not much to lose!
Download the new 1.7. version now!