Purchasing ZoomCharts visuals on AppSource
We've simplified the process of purchasing ZoomCharts visuals. You can now do that via Microsoft AppSource, which is a convenient and easy-to-use repository for all your custom visuals.
Step 1: Find Drill Down Visuals on AppSource
In the product page of your desired Drill Down Visuals custom visualization, you will find a Buy Now button. Click on it to view the product on AppSource.
On AppSource, press Install if you want to try the free trial or Buy now to proceed to the purchase page.  If you choose to install the free 30-day demo, you can try out all Drill Down Visuals PRO features during the trial period, after which you will be prompted to make a purchase.

Step 2: Choose the plan you want to buy

You now have more choices when purchasing your custom visuals. Select Single Visual if you want to purchase only the particular visual, or Visual Bundle if you want to access all ZoomCharts Drill Down PRO visuals for Power BI, including Pie, Donut, Timeline, TimeSeries, Map, Graph, Network, Waterfall, Combo, Combo Bar, and more.
Step 3: Confirm price and billing options
Once you're in the checkout page, you can choose between monthly and yearly billing periods. Furthermore, you can opt-in for automatic payments, and select the number of user licenses you want to purchase.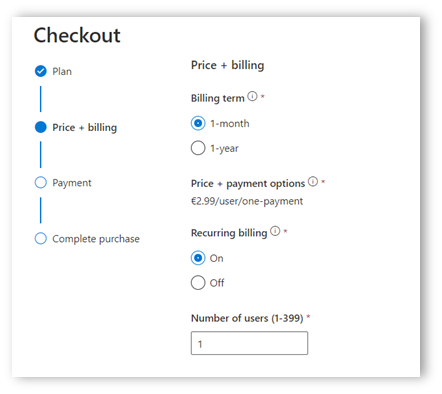 Step 4: Confirm your payment details

This is the last step you need to take before you can purchase and start using ZoomCharts custom visuals. On this page, you'll need to confirm your sold-to address, payment method and tax ID if applicable. If you don't already have a payment method associated with your AppSource account, simply press Add a new payment method and enter your payment card details.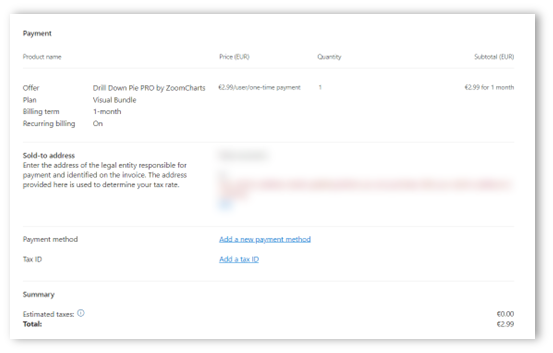 Afterwards, press Place Order and confirm the payment. You can then assign the licenses to your team members.


Managing your ZoomCharts visual licenses in Microsoft 365 Admin Center
You can manage the licenses for custom visuals in the same place as your Microsoft products, including Office and Power BI - Microsoft 365 Admin Center.
Step 1: View all your owned products
In the Admin Center, open the Billing section in the sidebar and click on Your Products. You will be presented with an overview of all your product licenses. Click on the product that you want to manage.

Step 2: Manage your payment settings
On this page, you can make changes to the billing settings and buy additional licenses for your team.

Step 3: View your licenses
You can get an overview of all your owned product licenses by heading to Billing -> Licenses. On this page, you can view how many licenses you own and how many of them are assigned to users. You can then click on the product you want to manage.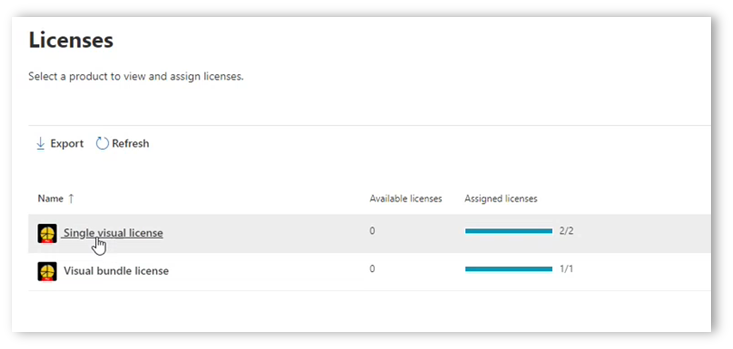 Step 4: Manage your licenses
Once you've selected the product you want to manage, you will proceed to a page that shows all the users who have been assigned a license. If you want to assign a license to a new user, simply click on Assign licenses. The page will open a menu which will allow you to search for a specific employee or group to which you want to assign a license.
If you want to unassign licenses, select the checkboxes for all the users you want to remove licenses from, and click Unassign licenses. Keep in mind that any changes that you make may take up to an hour to process.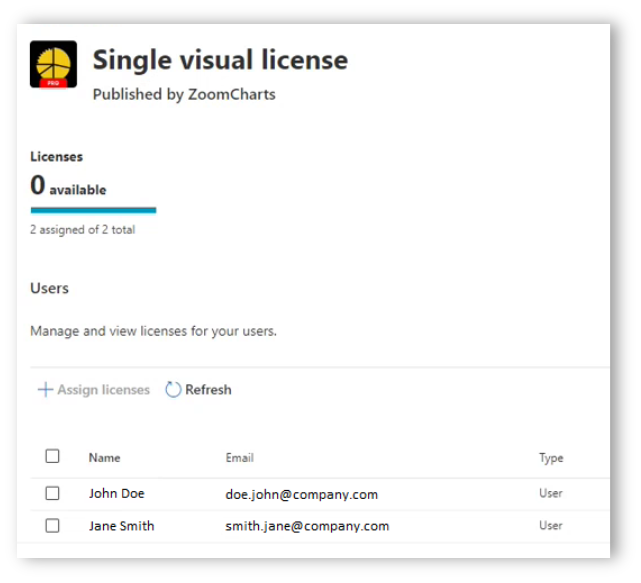 Adding ZoomCharts visuals to Power BI
Once the administrator has assigned a license to a user or group, there are still some steps they need to do to start using the visuals in Power BI. Unfortunately, AppSource does not provide any way for a user to see which licenses are assigned to them, which is why we recommend administrators to share that information via internal channels.
Step 1: Download the visual from AppSource
Press the Download button on the product page to download the .pbiviz file. Afterwards, open Power BI and press the ellipsis icon in the Visualizations panel. Press Import a visual from a file and locate the file you just downloaded. The visual's icon will appear in the list of visualizations.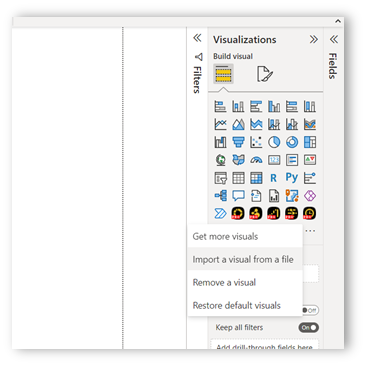 Alternatively, press Get more visuals if you want to browse AppSource within Power BI and download the visual directly. Enter the name of the visual into the search bar, open the product page and press Add to download it.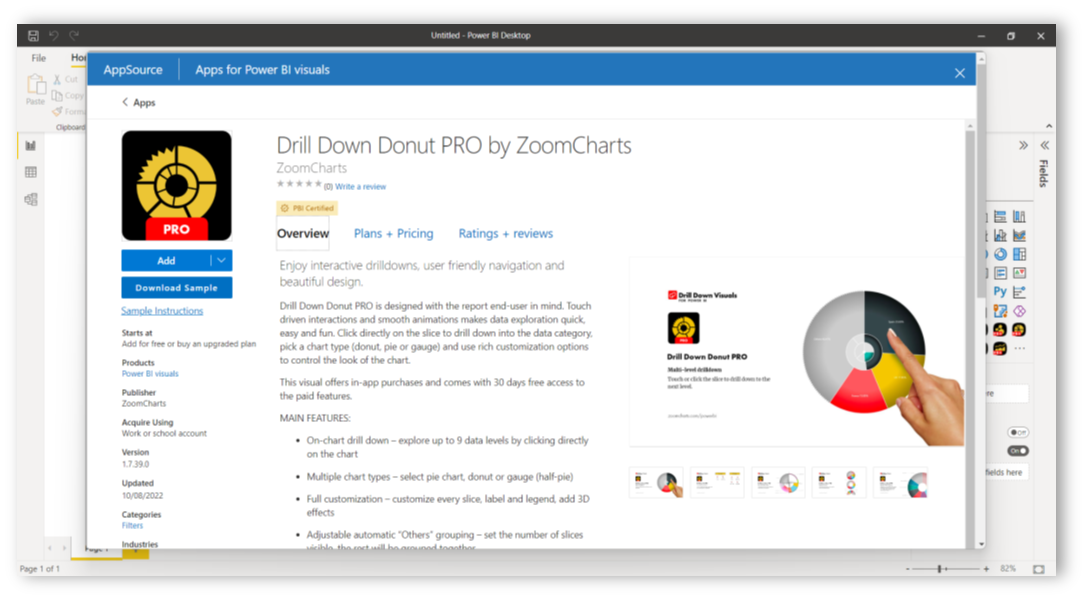 Step 2: Add the visual to your report
Click on the visual's icon in the visualization panel, and it will appear on the report. Make sure that you have logged in with an account that has been assigned a license. If the user has been assigned a license, it will be verified by Power BI, and you can start using the PRO features of ZoomCharts visuals. If your account does not have a valid license, you will see a prompt to start a free 30-day trial.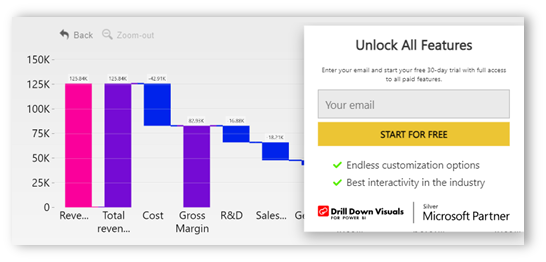 However, keep in mind that AppSource does not have the capability to verify the license of visual bundles yet. Power BI, unfortunately, will recognize only the product on which the purchase was made, and you will have to activate the rest of the visuals by following the instructions on this page.
Was this helpful? Thank you for your feedback! Thank you for your feedback!